Mindfulness para principiantes - Presencial & Online
Online stream
Starts on Sunday, 14/03/2021
Description:
El mindfulness nos invita a regresar al ahora, el momento presente, en lugar de obsesionarnos pensando en un pasado que ya no existe o fantasear sobre un futuro que aún no ha llegado. Todo sucede en este momento, por eso el arte de vivir consiste en estar en el eterno presente, abrirte a lo que es.
Jon Kabat-Zinn, quien ha traído estas enseñanzas de Oriente a Occidente, da esta definición: "Meditar es observar los pensamientos y sentimientos sin juzgarlos". Meditar es, por tanto, prestar atención a propósito en el momento presente y sin juzgar. La meditación nos permite trabajar la atención y ser más conscientes en el día a día.
Este taller tendrá como objetivo adentrarnos en el conocimiento de la atención plena y sus beneficios.
Los contenidos del taller son: - Mindfulness: definición y componentes. - Práctica del #mindfulness: formal e informal . - Técnica formal . - Narrativa interna: qué es y cómo nos afecta . - Emociones vs estados de ánimo . - Propuestas para la práctica personal. - Prácticas durante toda la mañana.
Con todo ello pretendo que tomes consciencia en tu día a día y apliques técnicas sencillas que te ayudarán a encontrar calma y serenidad.
Para asistir te recomiendo ropa cómoda, una libreta y un boli para apuntar si lo necesitas, y una actitud abierta y curiosa.
Online stream
There is an online stream available for this activity. To participate, take the following steps:
Make sure to read the description of your booked activity in advance to know which streaming provider your studio. Download the necessary app to your laptop, tablet or smartphone
Access to the online livestream is available 15 minutes before the start of the activity. Simply go to "My bookings" and click on "Join online stream now" to be redirected to the corresponding page
With some streaming providers (e.g. Zoom) it is possible for participants to see each other. However, it is theoretically possible to deactivate the camera function. The name you enter when entering the online meeting room is displayed to other participants. However, you can always change your name (e.g. only the initials). Please note: Individual rules for online participation may apply for each class or venue.
Teacher :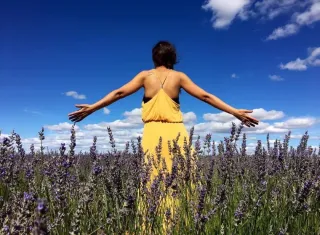 Marta
Soy Marta Alonso, maestra de infantil, profesora de Hatha yoga e instructora de Mindfulness. Dicen que cuando el alumno está listo, el maestro aparece. De hecho así fue en mi caso. Tras meses de práctica meramente física pasé a indagar en la parte espiritual e integral del yoga y ahí se me abrió un mundo. Dejé de buscar fuera y entendí que la búsqueda debía ser hacia dentro. Desde entonces he ido profundizando en mi propia práctica, me he formado en yoga y mindfulness para adultos y niños/as he impartido cursos de iniciación en atención plena y meditación y sigo mi propio proceso de desarrollo personal.
Dates:
| | | | | |
| --- | --- | --- | --- | --- |
| 1. | 14/03/2021 | 11:00 - 13:00 | Calle del Almíbar 69, 28300 Aranjuez | Marta |
| 2. | 14/03/2021 | 11:00 - 13:00 | Calle del Almíbar 69, 28300 Aranjuez | Marta |
* All prices including VAT